VP 1 - Junior Puppy
S.V.O.G. Bindlach Manitoba Cup Championship Show - July 15, 2001
"Medium strong, expressive, stretched, good topline, firm back, sloping croup, good angulations, very good gait"
SV Judge: Rüdiger Mäi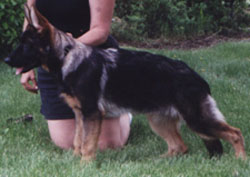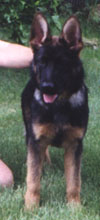 Pictures taken at 4 and 3/4 months

New photos will be Added on a Regular Basis.

D.O.B. January 13, 2001

Breeder: Katja Klotzsche (Vom Kaditzer Land), Dresden, Germany

Co-Owners:

Fred Lanting & Brenda Gunter of Traumhaus German Shepherds

We look forward to the training of this beautiful young sable girl to great levels in CKC Obedience, Schutzhund and Show. "Bruja" will be in residence with Brenda Gunter of Traumhaus German Shepherds in Canada for her initial training and socialization. Later she will go on to training in Schutzhund with Fred Lanting in Alabama. She is already showing great drive and determination for the tug and having great progress in obedience. Her temperament is outstanding. She is an extremely confident girl. Please keep checking back with our web site for news on her progress. We are sure she will make her masters proud.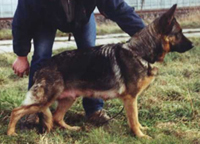 Dam: 'V' Brenda vom Kaditzer Land SZ 2003923 SchH1 Kkl1 "a" normal HDZW 73

Grandfather: Zito vom Badener Land SZ 1872278 HDZW 81
Grandmother: Nora vom Friedensturm SZ 1822742 HDZW 72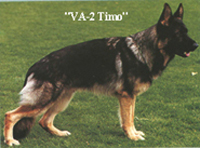 Sire: 'VA2' Timo vom Berrekasten SZ 1969122 SchH3 FH2 IP-3 Kkl1 "a" normal HDZW 83

Grandfather: Wanko vom Lippischen Norden, SZ 1871283 HD-ZW: 94
Grandmother: Leska vom Berrekasten, SZ 1831893 HD-ZW: 76
Z: Josef Heyn, 58791 Werdohl
E: Z and Gerd Dexel, 33106 Paderborn

WT 27.03.1996 (*Wanko vom Lippischen Norden, SZ 1871283, SchH3 FH2 IP3 HD-ZW: 94
ex Leska vom Berrekasten, SZ 1831893, SchH-l HD-ZW: 76)
Inbreeding: Palme Wildsteiger Land (5,5-5) U-Wf. Wildsteiger Land, Uran/Ulme, 4-4)
HD-normal, DNA. Especially well-pigmented, very impressive in presence and especially full of expression, substantial and sturdy gray (sable) dog.He has high withers, straight back, good length and slope of the croup,very correct angulations in front and hind quarters, andwell-proportioned chest dimensions, stand straight in front, has correctfoot placement, and moves with good balance,producing a free and powerful gait with efficient drive and free reach. This gray dog
distinguishes himself through harmonious body proportions, especially good mask, color on head, and dark eye. Expression, presence, and radiance of personality are outstanding. On the day of this performance, the dog is presented in very good constitution and reaffirms this through
outstanding presentation and joy of running. The dog was presented during the entire show season in outstanding condition. He also was chosen Best In Show (over 10,000 dogs) at the VDH-BundessiegerZuchtschau (annual all-breed national show) in Dortmund. This shows the acceptance of this dog by the general kynological profession (dog communities). He left a
good impression when for the first time he presented his Nachkommengruppe, which was convincing by the type similarity to the father, through the multitude of the dogs presented in that progeny class
and also through the quality of the individual animals. As to the coloration, it must be pointed out that breeders must pay attention to the fact that the placings are to increase emphasis on the black
portions, with regard to the color of the markings, so that bitches with good color in the markings are to be bred. Peter Messler


(pres. Meßler):

Besonders gut pigmentierter, sehr geprägestarker und besondersausdrucksvoller, grauer Rüde, gehaltvoll und kräftig. Er hat hohen Widerrist, geraden Rücken, gute Länge und Lage der Kruppe, sehr korrekteWinkelungen der Vor- und Hinterhand und ausgeglichene Brustverhältnisse, gerade Front, korrekte Schrittfolge, aus guter Gleichgewichtslage erzeugt er kraftvolle Gänge rnit wirksamern Nachschub und freiern Vortritt. Der graue Rüde zeichnet sich aus durch harmonische Gebäudeverhaltnisse, besonders gute Farbegebung am Oberkopf und dunkles Auge. Ausdruck,
Gepräge und Ausstrahlung sind überdurchschnittlich. Am Veranstaltungstag wird der Rüde in sehr guter Verfassung vorgestellt und überzeugt wiederum durch überragende Präsentation und Lauffreude. Der Rüde wurde während der gesamten Saison in überragender Verfassung präsentiert. Er konnte auch
auf der VDH-Bundessieger-Zuchtschau in Dortmund als bester Hund allerr Rassen herausgestellt werden. Dies zeigt die Akseptanz dieses Hundes durch die kynologische Fachwelt. Einen guten Eindruck hinterließ die erstmalig vorgestellte Nachkommengruppe, die sowohl durch de
Typgleichheit zum Vater, durch die Vielzahl der vorgestellten Hunde und auch durch die Qualität der Einzeltiere überzeugt. Zur Farbverebung muss darauf hingewiesen werden, dass er in der Lage ist die Schwarzanteile zu erhöhen, hinsichtlich der Farbe der Abzeichen müssen die Züchter darauf
achten, dass Hündinnen mit gut pigmentierten Abzeichen angepaart werden.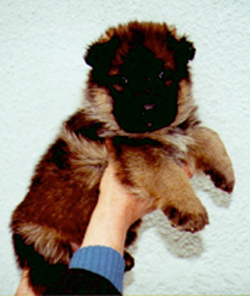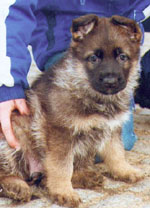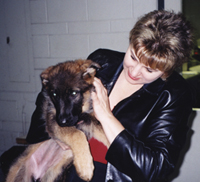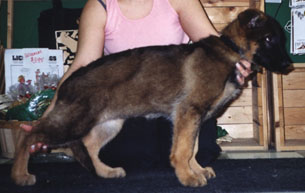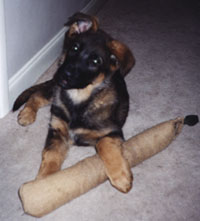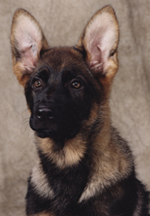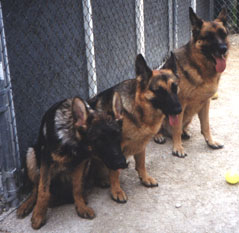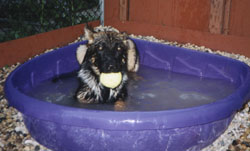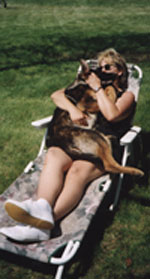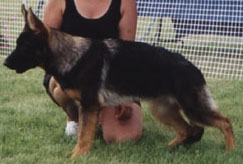 Bruja Pics, from approximately 6 weeks to 4 and 3/4 months of age.
Join us in watching her mature!