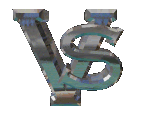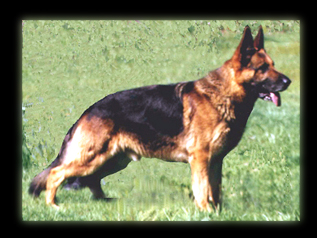 D.O.B: 13 Apr 1994
ZW 94 SZ 1894875 USF 2997 AKC DL-765415/01
OFA Hips - Excellent: GS-49738E38M-T Elbows - GS-EL7320-T
PennHIP 0.25 (90th percentile)

SIRE: Cim v. Ecknachtal, V1, 1995 SV Sieger Show; by of Cello Romerau, ex a Palme daughter.
DAM: many times V1 Taiga Rotdornweg (Quando Arminius/Cindy Huhnegrab granddaughter)
Inzucht: Q-Arminius 3-3; Palme 4,5-4; Nick 4,5-4,5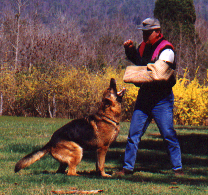 SV Korung:
Large, strong & substantial, well-pigmented, masculine dog. Good head. Good overline, very good front & rear angulation. Good chest structure, straight forelegs, moves straight in front, slightly cowhocked. Good reach with very strong drive. Firm nerves, outstanding hardness, courage, and spirit. Laßt nicht ab. Height 65cm, depth 33cm,circumference 85cm, Weight 38kg, TSB: pronounced. '97 Korung, 41 kg (89 lbs later). Very good pigment: Black & brown.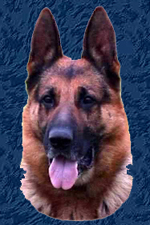 Iron's father and paternal grandfather (Cello) were famous for producing very hard, courageous, working-character dogs, and on his dam's side is Cindy, sister of Cliff v Huhnegrab, also famous for his production of working characteristics. Not since the Lierberg dogs of the 1960s have such highlines produced such strong working dogs!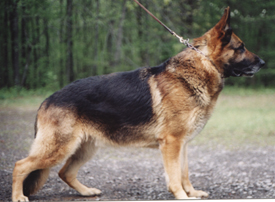 photo taken at 7 years of age.
V2 in the Veterans Class